Get a Free
Confidential Consultation
An MNP Debt Advisor will contact you within 1 business day.
Managing Finances During COVID-19
During these challenging times, many of us are feeling the mounting pressures of financial stress and uncertainty. You may be facing an unexpected job loss or contending with a reduced income, in addition to growing debts and a lack of emergency savings. Now is the time to thoroughly review your finances, so you can optimize your budget for your current situation. Follow these tips to help reduce your financial strain during COVID-19.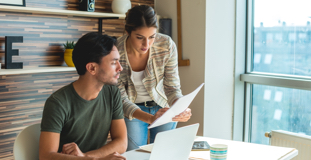 Create or Revisit Your Monthly Budget
The first and most important step in managing your finances is to know where your money is going each month.
Create a monthly budget: If you don't have a monthly budget, now is the time to create one. You can use our budget tracker spreadsheet as a template. Be sure to capture all expenses, including annual expenses, irregular expenses, and automated payments. Once you have entered all of your expenses, you can start identifying areas to cut back on or eliminate. Seeing your budget at a glance can keep you accountable and help you become more mindful of your spending.
Revisit your monthly budget: If you already have a monthly budget, set aside some time to review it. You'll want to look for any expenses that no longer apply to your lifestyle during this time, such as public transportation or parking passes, gym memberships, dining out, entertainment, etc. If you're working on a reduced income, you may also want to consider cutting out some non-essential expenses, such as multiple media subscriptions (cable TV, Netflix, Disney+, Amazon Prime, etc.), shopping, and discretionary spending.
Prepare an Emergency Budget

Not to be confused with emergency savings, an emergency budget is a plan for managing your finances on a reduced income. Your emergency budget should be a bare-bones version of your regular monthly budget—one that prioritizes basic needs. To prepare an emergency budget, take your monthly budget spreadsheet and start cutting out as many unnecessary expenses as possible. Think about what you can reasonably live without until you can return to full income. The more you cut, the further you can stretch your money.

Reduce Spending

Follow these money-saving tips to help trim your budget:

Cook at home: Takeout and delivery fees can add up quickly. Now is a good time to cook at home and use up what you already have in your pantry or freezer. Read the weekly grocery flyers, make a shopping list ahead of time, and stick to it so you don't go over budget.
Buy used: Online marketplace websites make it easy to buy used items at reduced prices. You can also sell your unwanted items for extra cash.
Comparison shop: Use price comparison sites to find the lowest price.
Use coupons: Fortunately, you don't have to spend time clipping coupons with scissors. Most coupons are digital these days, whether via an online promo code or an in-app offer.
Claim benefits: Claim any

government benefits

you are entitled to. Note: if these benefits are taxable, you will likely be required to pay the tax owing on these benefits come tax season.
Cancel subscriptions: Cancel any subscriptions you no longer need or use (streaming services, apps, fitness clubs, etc.).
Use the library: Most Canadian libraries offer much more than just books; check your local library's website to see if you can access streaming services, online courses, and more for free.
Track no-spend days: Make saving a fun challenge by seeing how many no-spend days you can tick off each month.
Practice self-care: Replace retail therapy with free self-care activities (see Prioritize Self-Care section below for ideas). Write down a list of your favourite activities and pick one to do every time you feel the urge to impulse shop.

Lean into Support Networks

During this unprecedented period of stress and financial uncertainty, it's important to maintain strong social ties. Whether in-person or via phone, text, or video chat, reach out to friends and family for support and encouragement—and know that you are not alone. You may also find it beneficial to speak with a professional, such as a licensed counselor or psychologist, who may be able to provide the insight and tools you need to get through these challenging times.

Prioritize Self-Care

Prioritizing your health and well-being is now more important than ever. Taking care of your body and mind can help you build resilience in the face of financial challenges and other hardships. Now is the time to build positive foundational habits, including a healthy diet, regular exercise, and quality sleep. Other self-care practices that won't cost you a dime include:

Yoga, meditation, and deep breathing
Walking in nature
Dancing
Listening to music
Practicing gratitude and positive self-talk
Drinking more water
Journaling
Exploring Alternative Debt Relief Options
If you're struggling with an overwhelming amount of debt and budgeting just isn't cutting it, it may be time to consider other options, such as bankruptcy or a consumer proposal. Fortunately, your local MNP LTD office is here to help. One of our Licensed Insolvency Trustees will review your financial situation and outline all of the debt relief options available to you, so you can choose the best approach for your unique situation. Take the first step today with a free confidential consultation.