Get a Free
initial confidential consultation
Unbiased, non-judgmental, confidential debt relief.
Licensed Insolvency Trustees, licensed by the Canadian Goverment
What is a Licensed Insolvency Trustee and How Can They Help?
A Licensed Insolvency Trustee (LIT) is an individual licensed by the Office of the Superintendent of Bankruptcy (OSB) to administer bankruptcy and consumer proposals under the Bankruptcy and Insolvency Act (BIA).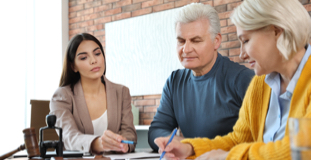 What Do Licensed Insolvency Trustees Do?

In the event of a bankruptcy, Licensed Insolvency Trustees are assigned your assets to sell, and they distribute any money they recover to creditors. However, they are also professional debt consultants who counsel on debt management, draft up consumer proposals for creditors, and negotiate informal debt settlements.

How Can A Licensed Insolvency Trustee Help Me?

Licensed Insolvency Trustees can help you through the bankruptcy process or walk you through other debt solutions thoroughly and efficiently. They will explain the process of bankruptcy, administer documentation and oversee your duties.

They also communicate directly with your creditors on your behalf once you file bankruptcy or submit a consumer proposal, so you no longer have to worry about harassing phone calls from creditors or wage garnishments. With a Licensed Insolvency Trustee, you can take comfort in knowing that no legal action or collections from unsecured creditors will proceed.
What Sets Licensed Insolvency Trustees Apart?
Licensed Insolvency Trustees are regulated by the government, so you will be paying much less than if you were using another debt relief agency. They maintain a high standard of ethics to assist you throughout the bankruptcy process and to mediate any issues you may have.
They are professionals who can give you financial advice and services of the highest quality. They demonstrate the skills and experience to earn a license from the Office of the Superintendent of Bankruptcy.
Why Work With a Licensed Insolvency Trustee?

Whether you want to draft a consumer proposal or understand your duties if you file for bankruptcy, a Licensed Insolvency Trustee can guide you through the entire process and explain all available options to you. Book a free consultation to get all the personalized debt help you need.